DHL Express invests in a new, larger Indianapolis service centre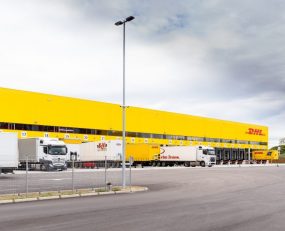 DHL Express relocated its facility in Indianapolis to a space that is nearly double the size of the previous location. The $7.7M investment in the DHL Express service centre increases shipment capacity and enables faster shipment processing, resulting in earlier deliveries for local customers.
The newly constructed facility at 365 Strategy Drive is easily accessible within the Greater Indianapolis market. With 42,600 sq ft of warehousing and office space, the operation is also improved with upgraded material handling equipment, along with nearly double the number of available courier vehicle load positions – from 22 to 45 – around two conveyor belts. This gives the operation the space needed to grow over the next decade and improves first-stop delivery times for its delivery services by at least 20 minutes in the local market.
"Our continued investments in Indianapolis, including the planning for a local electric delivery fleet,  ensures we can successfully grow with our import and export customers in a sustainable way," said Nemer Abohasen, VP and General Manager for DHL in the Midwest U.S.
"Indianapolis continues to be one of the largest state exporters of goods, and we're perfectly positioned to support businesses and their need to expand beyond their borders."
The new facility handles U.S. domestic and time-definite international shipments to and from the 220 countries and territories served by DHL. Its advanced material handling system can process up to 3,000 pieces per hour (PPH).
The Indianapolis service centre is planning to introduce electric pickup and delivery vehicles and has installed 45 advanced EV charging systems throughout the warehouse. The facility is also on its way toward LEED certification, which provides a framework for healthy, efficient, carbon and cost-saving green buildings. It's all part of Deutsche Post DHL Group's sustainability roadmap, with its mission of achieving net-zero emissions by 2050.
Source: DHL