Weak demand and rising capacity drives road freight prices down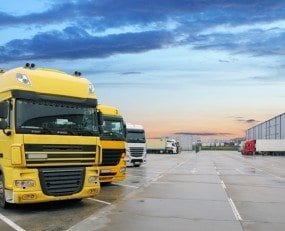 The European road freight capacity index increased by 21.3% in May 2023 compared to May 2022, according to the latest data by Transporeon. The latest figure marks the 11th consecutive month of year-on-year increase. The data reflects the economic downturn which continues to take toll on the European road freight market.
Due to the continued increase in capacity since the middle of 2022, transport prices in the spot market have been falling gradually. Spot rates have fallen by 17.4% in May 2023 compared to the year before.
By contrast, on the contract side, in May 2023, contract rates remained flat compared April 2023; and were 0.6% higher year-on-year despite more capacity being available on the market. Unlike spot rates are gradually declining, contract rates continue to hold up and are still higher than 2022 levels. The reason probably lies in the fact that changes in contract rates take longer to materialise due to freight procurement cycles. In addition, even though contract rates are still higher than 2022 levels, their growth rate has been slowing for nine consecutive months. As a result, we should expect declines on the contract side in the months ahead.  
The spot rate index has been below the contract rate index for four months now. In January 2023, the spot rate index fell below the contract rate index for the first time since January 2021, signalling real volume decline.
The financial results and the forecasts of the European road freight companies reflect the volume decline in the market. In Q1 2023, DSV's Road freight division reported a 0.9% decline year-on-year, which the company considers 'satisfactory in a market characterised by declining activity'.
DSV estimates that the market retracted by low single digits in Q1 2023, compared to the same period last year, driven by softened activity across most industries. The company further commented that the general cost inflation is causing rates to remain relatively high. Indeed, while fuel costs have fallen from their 2022 high, they remain elevated compared to 2021 and labour costs are also on the rise because of the cost-of-living crisis across Europe.
With volumes dropping and available capacity increasing, the downward trend in rates looks set to continue in 2023. In addition to volumes, the extent of these falls will be determined by other factors including seasonality as well as the higher cost base among road freight operators. For instance, seasonal demand is expected to support higher road freight rates in Q2.
---
Transporeon's capacity and freight rate data is available on GSCi – Ti's online data platform. Supply chain strategists can use GSCi to identify opportunities for growth, support strategic decisions, help them stay abreast of industry trends and development, as well as understand future impacts on the industry. 
Visit GSCI subscription to sign up today or contact Michael Clover for a free demonstration: [email protected] | +44 (0) 1666 519907