Tesla about to demonstrate its electric truck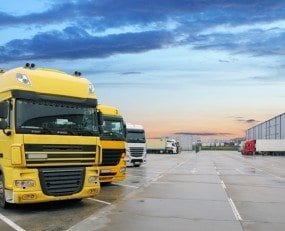 Tesla is planning to bring an electrically powered truck to the market in October, according to the company's CEO Elon Musk.
Using the slightly unorthodox means of Twitter, he stated that: "Tesla Semi truck unveil & test ride tentatively scheduled for Oct 26th in Hawthorne".
The vehicle is in the US class 8 category which is the largest type of truck and generally uses a semi-trailer.
In previous statements, Tesla has outlined a wish to build both a "heavy duty truck" and a "high passenger density urban transit", which is presumably a bus of some sort.
Although Tesla has not made a definitive statement about the capability of its new truck, Reuters appears to have been briefed by the company last month to the effect that the vehicle would have a range of 200-300 miles. It is suggested that Tesla has been in discussions with large truck operators in the US in order to understand their requirements. What seems to be emerging is that Tesla will operate a large articulated vehicle for daily routes rather than multi-day long-haul operations. Of course, this is shaped by the need to recharge the batteries, at what will presumably be a recharging station of considerable size, although a logistics service provider's truck depot would possibly be a viable location for such a capability.
The prospect of electric heavy trucks ought not to be dismissed lightly. Already, 'last-mile' operations are introducing electric vehicles, with Deutsche Post DHL going so far as to introduce its own design of a delivery van powered by batteries and a bespoke electric motor.
With a trend for city authorities to either tax or ban diesel vehicles from urban centres, the need to offer alternatives to diesel is becoming urgent. Large trucks are vital in supplying retail locations in urban centres and electric powered vehicles would appear to offer real advantages for these types of operations.
Over recent months, the German car industry has become frantically worried about the impact of electric cars on their business. Perhaps vehicle manufacturers ought to start worrying about their commercial vehicles businesses too.
Source: Transport Intelligence, September 14, 2017
Author: Thomas Cullen