UPS announces robust Q3 volume growth and profit figures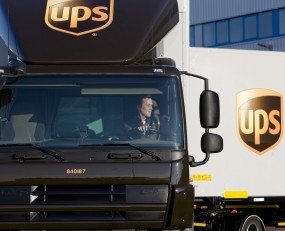 For the third quarter of 2016, UPS recorded significant growth in domestic and international volumes year-on-year, as diluted earnings per share increased by 3.6% year-on-year.
Revenue reached $14.9bn overall, up by 4.9% on the same quarter last year. On a currency-neutral basis, revenue increased 5.1%, while lower fuel surcharge rates reduced revenue growth by 0.5 percentage points.
In the US Domestic Package business, revenue increased by 4.8% year-on-year to $9.3bn. Average daily package volume rose by 5.7%, with Deferred Air products up 10%, Next Day Air up 5.9% and Ground products up 5.2%. UPS stated,"Strong business-to-consumer (B2C) growth trends continued this quarter, while business-to-business (B2B) growth was positive primarily due to online retail returns." The company also asserted: "The underlying performance of the segment remains strong and is consistent with the first half of the year. Operating profit was $1.3bn and operating margin was 13.5%."
In the International Package segment, revenue amounted to $3.0bn, up 2.2% year-on-year. On a currency-neutral basis, revenue was 3.1% higher, while lower fuel surcharges reduced revenue growth by approximately 70 basis points. Daily export volume increased 7.1%, on double-digit gains out of Asia and high-single digit cross-border shipments within Europe. Operating profit was up by 14% to $576m, a record for any third quarter in company history. UPS stated, "Volume growth in all products, base-rate increases and network efficiency gains contributed to the improved profitability."
Turning away from package operations, the Supply Chain & Freight segment reported revenue growth of 8.1% to $2.6bn. This was largely attributable to the acquisition of Coyote Logistics midway through the third quarter of 2015. Weak market conditions in the air freight forwarding and LTL (less than truckload) markets weighed on top-line growth. The highlights for the forwarding business were tonnage growth in the Ocean and North American Air Freight products, which partially offset the decline in International Air Freight tonnage. The Distribution unit reported mid-single-digit revenue growth in the quarter, as gains in the healthcare, retail and aerospace sectors boosted the division.
UPS' Chief Financial Officer commented, "Through the third quarter we are performing according to our expectations, and we've taken the necessary steps to ensure we capitalize on record volume levels during peak season. As a result, we remain confident in achieving our 2016 full-year guidance for adjusted diluted earnings per share."
Source: UPS