DHL implements sortation robots in Miami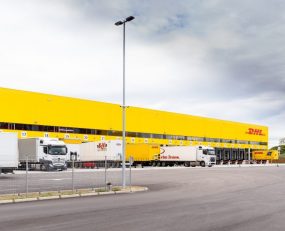 DHL Express has implemented sortation robots to increase productivity and service quality at the company's service centres in Miami, Florida. This is considered one of many digitalisation investments to drive efficiency and handle increased shipment volumes by DHL.
DHL Express partnered with Dorabot, an AI-powered robotic solution provider for logistics, express delivery, smart manufacturing, retailing and other industries. In June 2020, DHL deployed its first AI-powered robotics arm for sortation at one of its service centres based in Miami, after which the facility was able to sort 35% more packages per hour, according to DHL. Two robots are now deployed alongside each sorting belt, each capable of sorting over 1,000 small parcels per hour.
"By using robotics at our Miami facility to automate, and in some cases eliminate, time-consuming tasks, it frees up our operations staff for more value-adding tasks," said Richard Saavedra, VP and General Manager at DHL Express (Southeast).  "Overall, this robotic implementation has enhanced our ability to maintain a consistent shipment processing rate while managing volume surges. The application has demonstrated success and paves the way for additional implementations as a way forward in our current environment."
The AI enables the robotic arm to quickly sort packages into separate delivery bins that sit on racks surrounding the robot, each representing an individual courier route. The Dorabot hand is shaped like the DHL bin, where it meets up at the end of a conveyor belt to receive each package. While traveling the conveyor belt, 3D and barcode cameras scan the package, informing the robot about the package's location and which bin is the targeted destination. This process helps couriers focus on other activities that allow for greater efficiency, such as loading packages onto their vehicles for last-mile deliveries, according to DHL.
"The successful collaboration with DHL has again proved that AI and robotics are 'must have' technologies for the enhancement strategy of logistics companies," said Spencer Deng, Dorabot CEO.
"The DHL Americas Innovation Centre is dedicated to bringing impactful solutions to our vast network of operations, enabling significant benefits and process optimization. Our robotics sort solution allows us to handle greater volumes while maintaining the high service levels our customers know and love, particularly during a time where peak volumes are constant and labour is in high demand," said Ben Perlson, Innovation Manager at DHL. "The e-commerce explosion has made robotics and automation a more important tool than ever to support our customers' business operations."
Source: DHL Express