Are there really logistics opportunities in Iran?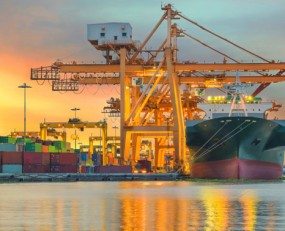 Following the lifting of UN and EU sanctions approximately a year ago, many analysts predicted that numerous logistics opportunities would arise in Iran, with Ti among them. But does the reality match the hype?
Agility Emerging Markets Logistics Index 2017, compiled by Ti on behalf of Agility, sheds further light on this question. Iran has been ranked in our data-driven Index of 50 emerging logistics markets for the first time, its air and sea freight trade position in 2016 has been assessed, and we reveal where over 800 supply chain professionals have positioned Iran in the hierarchy of major logistics markets of the future.
In a nutshell, Iran is one of the star performers in this year's report. In the Index, it ranks 18th, up eight spots year-on-year, the greatest gain of any country. This leap reflects not only the potential of its large economy and relatively wealthy population, but also the rapidity with which it may capitalise on its new-found opportunities. The IMF has also significantly revised upwards both its GDP and trade volume forecasts over the next five years. In our survey, supply chain professionals ranked Iran 9th among emerging markets with the most potential to grow, up from 15th a year ago, and 30th two years ago. It must be said however that survey respondents also ranked Iran 6th among countries with the least potential, showing a clear division of opinion.
So does the overall optimistic take in the Index match the actions and remarks of those involved in Iran's supply chain and logistics sector?
Sea freight
Maersk resumed services to Iran in October 2016 after a five year hiatus. The company said it represents a 700,000 FEU market. In anticipation of sanctions lifting, MSC, CMA CGM, HMM, Evergreen and Yang Ming resumed services in 2015. In a nutshell, container lines have returned en masse.
Air freight
A similar story applies for air freight. Many major European airlines have resumed services to Iran. KLM commenced in October 2016, IAG Cargo in September and Air France in April. In addition, Iran has ordered 80 jets from Boeing and 100 from Airbus, the country's first planes acquired from Western manufacturers since 1979. Iran has also ordered 100 planes from Airbus.
Freight forwarding
It is difficult to find any hard data or commitments by freight forwarders, but the rhetoric is in line with the big moves in carrier markets.
DSV said it expected to see a surge in demand into Iran and requests were already "pouring in". "With heavy sanctions imposed by the US since 1979 and the UN from 2006-2016, Iran is a virtually untapped consumer market", it explained.
"It's the biggest market opportunity to have emerged in the past decade or so," according to Thomas Blank, Europe managing director for Hong Kong-headquartered 3PL Kerry Logistics.
"The removal of the sanctions is something people have been waiting for many years, and it's going to have a big impact on exports from Germany and China to Iran, because for the past 30 years, capital investment (in the country) has been close to zero.
"The interesting part is that only a few forwarders have been dealing with Iran until now. This means there will be a similar starting point for us all, and therefore a real race to land business."
Other major forwarders such as Agility, Panalpina and DB Schenker Logistics have also made very positive comments on Iran.
Road freight
The major announcements made surrounding road freight really relate to trade between Europe and Iran. DHL Freight, Delamode and Gebruder Weiss have all announced new services to Iran in 2016. Again, this is a substantial opportunity, but overall there has been less noise here than in international air and sea freight.
Verticals

Another way to assess the opportunity for the logistics industry is to look at what is going on in vertical sectors. One industry which has been particularly enthusiastic about Iran is the automotive sector. In January, reports suggested that as the largest automotive production and sales market in the Middle East, a number of vehicle manufacturers were interested in scaling up operations in Iran following the easing of sanctions. Further major news filtered in throughout the year – tier one parts supplier Bosch returned to Iran in May, Renault said it would boost output in October, and the same month saw PSA and Saipa sign up to joint production in the country.
Elsewhere , French oil & gas giant Total confirmed it was moving back into Iran in November, six years after it was forced to suspend operations. In December, Shell was the second major global oil & gas company to return. The world's largest oil driller, Schlumberger, headquartered in the US, also said it had signed a preliminary agreement to study an Iranian oil field.
The US problem
While many Asian and European companies are eagerly scrambling for new business as the UN lifted all nuclear-related sanctions against Iran and the EU removed many bilateral sanctions on Iran's banking and energy sectors in January 2016, the US government still has in force a myriad of unilateral sanctions, largely prohibiting US companies doing business with Iran. The trade situation does not look like it will improve any time soon either – Donald Trump sounds like he will be taking a hard line with Iran.
Companies outside the US are also affected by its sanctions. Iranian banks and foreign banks processing Iran-related transactions are not allowed to deal in dollars. US sanctions are deterring some European and Asian companies from investing in Iran that otherwise would.
Is Iran living up to the logistics industry hype?
Overall, a fair summary is that the hype is justified. There are many examples of logistics activity ramping up across various logistics markets and a broad range of vertical sectors. The optimism must be tempered by the fact that this is largely limited to European and Asian linkages with Iran – US sanctions remain a major headache for boosting logistics activity in Iran, and this is not just limited to US companies.
Source: Transport Intelligence, January 26, 2017
Author: David Buckby