Optimistic WTO upgrades trade forecasts despite headwinds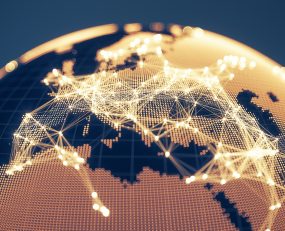 The World Trade Organisation has upgraded its estimates for global trade growth in 2021 and 2022, citing the vigour of global trade's recovery from the Covid-19 pandemic.
The updated forecasts show a quickening of the pace of merchandise trade growth to 10.8% and 4.7% in 2021 and 2022 respectively. Both years show more optimistic forecasts, with the WTO having previously projected expansions of 8% and 4% back in March. Year-on-year growth reveals a spike in global trade growth during Q2 2021, when trade volumes grew some 22%, compared with the same three months of 2020 when economic and social activity was most restricted. Global growth in Q3 2021 is set at 10.9%, while in Q4 2021 the projected annual increase is 6.6%, reflecting a higher base of comparison with economies having progressively opened globally over the second half of 2020. "Reaching the forecast for 2021 only requires quarter-on-quarter growth to average 0.8% per quarter in the second half of this year, equivalent to an annualized rate of 3.1%," the WTO report said.
The WTO's optimism was offset by two headwinds it cites as potential concerns in the months ahead – vaccine inequality and supply chain bottlenecks. Both present challenges to global supply chains, though both will have outsized impacts only in certain locations and sectors.
The WTO argues vaccine inequality will have the largest impacts in low-income and developing economies. The report argues that Asia Pacific will have import and export growth of 10.7% and 14.4% in 2021 respectively, but that the same forecasts for low-income countries, sit at 5.5% and 5.3% globally. Low-income countries will see exports 3.2% between 2019 and 2021, although imports will be 1.6% lower over the same period. Such countries have received only 28m of 6bn vaccines delivered globally, according to the WTO, while its Director-General Ngozi Okonjo-Iweala, said: "The longer vaccine inequity is allowed to persist, the greater the chance that even more dangerous variants of Covid-19 will emerge, setting back the health and economic progress we have made to date."
Supply chain bottlenecks present their own challenges to trade growth too. Forecasts covering 2021 and 2022, as well as longer-range projections are threatened by "longer port delays, higher shipping rates, and extended shortages of semiconductors, with supply-side disruptions being exacerbated by the rapid and unexpectedly strong recovery of demand in advanced and many emerging economies." The report did, however, argue that shortages in components like semiconductors and other disruptions, including port congestion, while straining supply chains and potentially constraining growth, were likely to be secular. The WTO cites examples of consumer electronics manufacturers with a steady supply of semiconductors but carmakers struggling to secure such chips.
"Trade has been a critical tool in combating the pandemic, and this strong growth underscores how important trade will be in underpinning the global economic recovery," WTO Director-General Ngozi Okonjo-Iweala said. The current projections put merchandise trade on course to match the long-term 2011-2019 growth trajectory by the end of 2024. Vaccination and supply chain bottlenecks, however, threaten growth, especially in the world's emerging markets.
Source: Transport Intelligence, 5th October 2021
Author: Nick Bailey