Lufthansa Cargo looks as it has recovered its profitability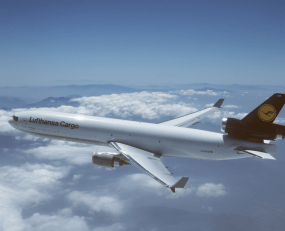 Lufthansa Cargo looks like it has moved back into the black. The latest 9 monthly numbers show a return to profitability in its 'Logistics' division, with Earning Before Interest and Tax (EBIT) rising to €105m, in contrast to -€63m for the same period in 2016.
It should not be too surprising. The air cargo market is generally buoyant with rising volumes and prices.
For Lufthansa Logistics revenue was up over the past 9 months by 18.2% to €1,752m, however, volumes measured in 'revenue tonne kilometres' rose only 6.4%, something compensated for by stiffening freight-rates. That said, the market generally is growing at around 10%, so it is possible that Lufthansa Cargo has focused on the most profitable business.
Greater profitability was also helped by lower costs, with operating costs rising 7.6% in contrast to the double-digit revenue increase, although on a kilometre basis this amounted to a rise in costs driven in great part by fuel expenses. Load factors were up 2%.
In geographical terms, it was the Americas and Asia-Pacific that made the running. The Americas saw a 6.7% increase in volume (by tonne-kilometres) and the consequent tighter market conditions saw resulted in a 17.7% rise in revenue. Asia-Pacific saw a 7.2% increase in volume and an 18.8% higher revenue.
Overall Lufthansa as a business appears to have recovered from a period of considerable stress. Its workforce problems seem to be behind it and its main passenger business is growing by 17% in terms of the number of people carried. Profits, however, are not quite so strong, with EBITDA (Earnings Before Interest, Tax, Depreciation and Amortisation) up 7.2% for the past 9 months.
The reasons behind Lufthansa's general recovery are a continuation of reasonable growth in demand, mixed with less competition. The airline sector in Europe is consolidating and this has reduced downward pressures on pricing. Such a trend is also behind the improvement in the cargo sector. However, in the long-term, there are still plenty of competitors in the market and the rationalisation will only have the effect of making them stronger.
Author: Thomas Cullen