Logistics Segment Keeps CMA CGM Sailing Steady in Q2 2023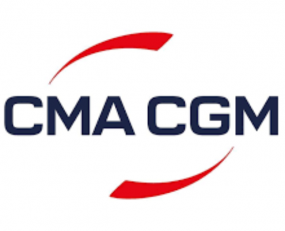 As CMA CGM continues its transformation from a pure container shipping business into a logistics company, so its logistics segment was the brightest spot in otherwise stormy conditions for the company. Overall EBITDA was down -73% compared to the second quarter of 2022, softened by the Logistics EBITDA that grew +4.7%.
Group revenues were down 36.9% to USD $12,289m, led in a large part by the container shipping business that saw a 47.9% decrease in revenues and a 76% decline in EBITDA compared to Q2, 2022. The softening of the global container shipping business hit spot prices hard, to the point that these sharp falls were despite a drop in container volumes of just 0.3% to 5.6m TEU in the period.
In 2022, though business was very good for the entire container shipping industry, this was commonly recognized as anomalous and a result of the rebalancing of trade after the global pandemic. This is reflected in the comments of Rodolphe Saadé, Chairman and Chief Executive Officer of the CMA CGM Group, who said "As expected, our industry continued to normalize in the second quarter and, despite difficult market conditions, our performance remains robust."
Saadé continued, "In recent years, we have significantly strengthened our two strategic pillars: transport and logistics. On that basis, our Group will pursue its transformation, as it continues to expand and to integrate recently acquired subsidiaries". 
CMA CGM has been actively transforming its portfolio away from being a pure container shipping line and into a global logistics business, with around 25% of its revenues stemming from this industry. The quarter's results were buoyant in the segment, seeing EBITDA growth of 4.7% compared to Q2, 2022 on stable Q-o-Q revenues. It is seeing contract logistics recovering in Europe and thanks to the recent acquisition of French vehicle logistics company Gefco, has benefitted from the favorable conditions in finished vehicle logistics.
Its leadership have stated the intent of being among the top 5 global players in transport and logistics and may well reach this position in the next 12 months. The company has recently offered to buy Bolloré Logistics' freight forwarding and logistics business as it seeks to acquire its way into the industry. With the container shipping industry returning to low profitability after the pandemic induced boom, the strategic move into global logistics could well prove to be deft and timely. As the company stated, "The Group is confident in its ability to weather the cycle thanks to its combined transport and logistics strategy and its financial strength."
Source: Ti Insights
Author: Richard Schrubb
Supply chain strategists can use GSCi – Ti's online data platform – to identify opportunities for growth, support strategic decisions, help them stay abreast of industry trends and development, as well as understand future impacts on the industry. 
Visit GSCI subscription to sign up today or contact Michael Clover for a free demonstration: [email protected] | +44 (0) 1666 519907