European road freight market set to recover with a CAGR of 3.4% from 2020-2024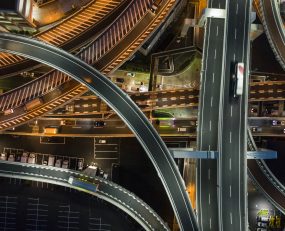 15th December, 2020, Bath, UK – Ti's latest European road freight market forecasts show that the market will recover from an anticipated real terms contraction of 6.2% in 2020, with a forecasted CAGR of 3.4% from 2020-2024.
European road freight market to shrink by 6.2% in 2020
European road freight market to expand at a CAGR of 3.4% between 2020-2024
International European road freight market to grow fastest, at a CAGR of 4.2% 2020-2024
Domestic European road freight market to grow at a CAGR of 3.1% 2020-2024
In 2020, the market was primarily damaged at the beginning of the year by the Covid outbreak across Europe, which led to national lockdowns and government-imposed restrictions on everyday life. The shutdown of vast swathes of the European economy meant demand for road freight declined sharply, particularly in industrial sectors. There were certain bright spots however, in areas such as consumer electronics and healthcare & pharmaceuticals.
Over the forecast horizon, sectors that struggled are expected to return to some level of growth. Manufacturing, which suffered so severely as result of factory shutdowns during the first wave of infections, had recovered to 94.1% of prior year output in September 2020 (in April 2020, EU output fell to a low of 70% of prior year levels). Although there is some evidence that the rebound in manufacturing may have stalled amidst a second wave of coronavirus infections, the sector is not expected to fall to anywhere near as low as it did in the first half of the year and should recover to pre-Covid levels in the near future. With manufacturing being such a transport-intensive sector, this bodes well for the market's recovery.
The domestic road freight market is expected to grow at a real 2020-2024 CAGR of 3.1%. Sustaining this level of growth would exceed the domestic market's performance over the past decade. However, this should be seen against the backdrop of 2020, where growth is projected to contract by 5.5%.
It appears that domestic road freight has already recovered to close to pre-Covid levels, which bodes well for the market. However there are short term risks to domestic demand levels which are likely to hamper the recovery in road freight, namely when state support schemes to keep people in work will end and how much unemployment may rise at that point.
The international road freight market is forecast to grow at a real 2020-2024 CAGR of 4.2% following a 7.9% contraction in 2020. Over 2020-2024, Euro area international trade is projected to grow at a real CAGR of 5.1% according to IMF figures, a figure 1.6 times higher than projected GDP growth. A continuation of this trend would see a robust international road freight recovery over the medium term.
Andy Ralls, a Quantitative Analyst at Ti said: "The road freight market is projected to return to growth in the near future. In the domestic segment, there are already promising signs of this recovery, but rising unemployment and weaker consumer demand could yet derail the upturn. Europe's manufacturing sector will be a key determinant of the international recovery. A prolonged second wave of Covid infections and a potential No Deal Brexit scenario are key downside risks."
Ti's full market forecasts for the European road freight market with all breakdowns by segment, region and country are available on the Global Supply Chain intelligence (GSCi) database.  
Read Ti's overview of the figures in the whitepaper: https://www.ti-insight.com/whitepapers/post-covid-19-forecasts-european-road-freight-transport-growth-2020-2024-2/?whitepaperTitle=Post%20Covid-19%20Forecasts:%20European%20Road%20Freight%20Transport%20Growth%202020-2024
Access all the forecasts data on GSCi: https://www.ti-insight.com/gsci-market-sizing-2020/
About Transport Intelligence (Ti)
Transport Intelligence (Ti) is one of the world's leading providers of expert research and analysis dedicated to the global logistics industry. Utilising the expertise of professionals with many years of experience in the express, freight and logistics industries, Transport Intelligence has developed a range of market-leading web-based products, reports, profiles and services used by many of the world's leading logistics suppliers, consultancies, banks and users of logistics services.
For further information, please contact Michael Clover, Ti's Head of Commercial Development, [email protected]