Automation improves UPS profits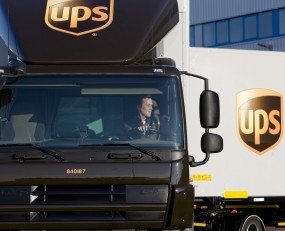 UPS' results perked up considerably over the past quarter, reflecting the continuing demand for internet retailing-driven services.
Revenue for the whole group rose over the past quarter by 5% year-on-year to $18.3bn. Its first nine months revenue was 3.5% higher year-over-year. Profits jumped by 18.8% year-over-year in the quarter, or when looking at the first nine months, increased 8.5% year-over-year (although the numbers are obscured by capital expenditure adjustments).
As ever, the key business has been U.S. Domestic Express. Demand here was very strong with daily volumes increasing over the third quarter by 9%, with the revenue number reflecting this at 9.8%. The operational profit number saw an impressive 28.1% rise to $1.2bn. International Express saw a lower increase in revenue but operational profits still rose by 24.4%.
In a statement Dave Abney, Chairman and CEO of UPS, appeared to ascribe this jump in profits to greater investment in automation, saying, "the investments we are making in new facilities and automation in our network, coupled with solid execution of our strategies, are producing strong results, including strong, positive operating leverage."
Other parts of the UPS Group were not quite so buoyant. At 'Supply Chain and Freight' revenue fell over the third quarter by 4.5% but operating profits were 1.2% higher. Judging from the comments from UPS, it appears the freight forwarding operation and the contract logistics businesses were pulling in different directions, with the former struggling in a difficult environment whilst contract logistics continued to benefit from robust demand in sectors such as pharmaceuticals. The 'UPS Freight' road freight operation saw a 4% increase in revenue per LTL hundredweight in the quarter.
After several years when UPS appeared occasionally overwhelmed by the demands of internet retailing it seems to have adapted to the opportunities offered. In particular the ability to increase productivity through greater capital investment aligns with the wider UPS business model. Mr Abney promises that this trend will continue, in which case it promises a good deal for UPS profitability.  The key test will come in the next quarter when the Christmas period will see a huge rise in volumes that has previously stretched UPS and driven up its variable costs.
Source: Transport Intelligence, October 24, 2019
Author: Thomas Cullen