Are freight companies working towards decarbonisation?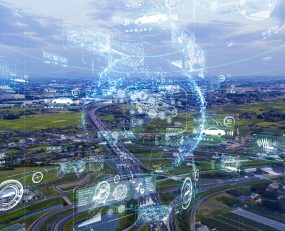 The World Benchmark Alliance (WBA) published the Climate and Energy Benchmark on the Transport Sector two days ago. It analyses 90 companies, including 25 airlines, 17 shipping companies, nine rail operators, six road transport firms and 33 multimodal companies.
The WBA assesses and ranks high-emitting companies on critical issues supporting decarbonisation and the energy transition. The report examines current and future decarbonisation plans and their past and present performance to determine their alignment with the Paris Agreement goal of limiting global warming to 1.5° Celsius and their contributions to a low-carbon transition.
According to the assessment, 85% of the companies have fleets that will be unable to operate in a low-carbon future, and only 7% of the companies have publicly stated plans to phase out fossil-fuel-powered modes of transportation.
The report says: "Investment in R&D is critical to ensuring that new technologies can come to market more quickly, as is working in partnership with suppliers and developers such as vehicle manufacturers or fuel producers. However, 94% of companies do not provide any meaningful data on research and development into low-carbon vehicles and fuels." It adds: "A few companies are using their influence to push for infrastructure solutions, improved climate policy, or customer behaviour change."
Aside from decarbonisation, the study looked at the implications for workers and customers as a component of ensuring a low-carbon transition that leaves no one behind. The 90 transport companies employ an estimated 9.6m people worldwide, but only 43% have a publicly available policy statement to protect their workers' health and safety. Furthermore, only three companies provide quantitative data on worker health and safety.
Nonetheless, some businesses stand out as examples of good practice. Maersk is one of the few companies that has made it a policy to work with trade associations on climate issues. It reviews its membership status annually to ensure that its trade associations comply with the Paris Agreement.
According to the benchmarking, some solutions that transportation operators will need to implement, such as alternative fuels and cleaner vehicles, are still in the early stages of development.
Despite the challenging landscape described by the WBA's Climate and Energy Benchmark, some decarbonization initiatives are being implemented gradually.
For instance, in June 2021, the International Maritime Organization (IMO) adopted a series of agreements on regulations around the "carbon intensity" of shipping. More details and adopted strategies can be found in Ti's Logistics & Supply Chain Sustainability Report 2021.
Another recent example is the Green Corridor to support sustainable shipping. The Memorandum of Understanding (MoU) was signed by the Port Authorities of Rotterdam and Gothenburg last week.
The ports will use the agreement to strengthen their ongoing collaboration on decarbonisation and digitalisation. In addition, it will establish a common framework for cooperation as part of the Green Corridor initiative to promote the use of alternative fuels to meet the Paris Agreement's goals.
However, as well illustrated by the WBA's key findings, engaging people in the transition requires a concerted effort, and a lack of action by companies could jeopardise the low-carbon transition's success.
For more in depth information, download the Logistics & Supply Chain Sustainability Report 2021. The report addresses the impact of Covid-19 on the race to decarbonise. It examines the current impact of road, air and sea freight on environmental targets and the measures each market must adopt to reach net zero. It also contains a breakdown of the findings of the Ti and Foundation for Future Supply Chain's 2021 Sustainability survey and comparative environmental profiles for leading logistics providers.
Supply chain strategists can use GSCi – Ti's online data platform – to identify opportunities for growth, support strategic decisions, help them stay abreast of industry trends and development, as well as understand future impacts on the industry. 
Visit GSCI subscription to sign up today or contact: Michael Clover for a free demonstration: [email protected] | +44 (0) 1666 519907 
Source: Transport Intelligence, 20th October 2022
Author: Marta Chiriatti